Dr. Jeffrey A. Waldrop
Vice Provost for the University Libraries
Associate Professor of Church History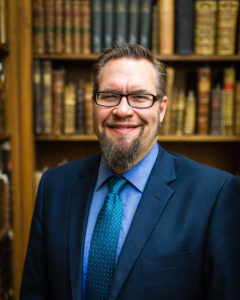 Education
B.S., Le Tourneau University, 1995
M.Div., Golden Gate Baptist Theological Seminary, 2004
Th.M., Historical Theology, Golden Gate Baptist Theological Seminary, 2006
Ph.D., Theology and Church History, Fuller Theological Seminary, 2012
M.L.I.S., San Jose State University, 2017
Dr. Jeffrey Waldrop joined Mercer as Dean of the University Libraries and Associate Professor of Church History in 2019. He previously served as the Associate Provost of the David Allan Hubbard Library and Assistant Professor of Church History at Fuller Theological Seminary in Pasadena, CA. He has held adjunct Church History appointments at various institutions including Golden Gate Baptist Theological Seminary, Colorado Christian University, and the Nepal Theological Academy (Seminary) in Kathmandu, Nepal.  Having been born and raised in South America, the Caribbean, and the United States, Dr. Waldrop is fluent in a number of languages, and feels at home within diverse cultures. He brings to his teaching and scholarship, a passion for intercultural awareness and a desire to see learning and growth through print and online classroom resources, and through free academic exchange.
Courses taught
Dr. Waldrop has taught a variety of courses in Church History and Historical Theology, covering the Early Church, Medieval and Reformation era, and Christianity in America.
Areas of specialization
Development of theology in Early, Medieval and Reformation Church history; History of Christianity in America, the effects of colonization and racism in Protestant/Evangelical Christianity, Mormonism, New Religious movements, and themes in Christian Philosophy of Religion, especially in the thought of St. Augustine of Hippo.
Research and professional interests
Dr. Waldrop is a member of the American Society of Church History, the American Academy of Religion, the Baptist History and Heritage Society, the Fellowship of Baptist Historians, and the American Theological Library Association. His doctoral research focused upon the rise of religious toleration in 18th-century New England. His writing and research focuses on biographical approaches to history, Baptist history, New Religious Movements in America, and the formation of the doctrines of the trinity and ecclesiology in Church History.
Publications
Dr. Waldrop has contributed entries to the Encyclopedia of Christianity in the United States (Rowman & Littlefield, 2016), chapters to the seventh (2015) and eighth (2016) volumes of A Noble Company: Biographical Essays on Notable Particular-Regular Baptists in America (Particular Baptist Press). His most recent publication, released in 2018 from De Gruyter, is The Emergence of Religious Toleration in 18th Century New England: Congregationalists, Baptists, and the Contribution of John Callender (1706-1748), Arbeiten zur Kirchengeschichte, vol. 138.
Contact Dr. Waldrop
---
478.301.2964
waldrop_ja@mercer.edu